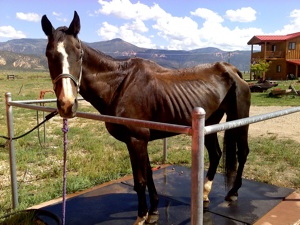 To spot and prevent horse abuse in your neighborhood takes a concerted effort. This means the willingness to keep your eyes and ears open — to pay attention to horses that live in your community.
As a lover of horses you probably know there are agencies that work to protect and save the lives of these animals in Utah, and throughout the counry. But for them to be effective, they must rely on good citizens like you to report abuse — they simply don't have the resources to do it alone.
This is where you can help. You can be the eyes and ears for desperate, helpless horses who can do nothing to stop their abuse.
In cases of suspected abuse or neglect, look for theses signs…
Extremely thin or emaciated horses
Wounds on the body
Chronic illness
Limping
Signs of physical abuse
No evidence of food or water
Lack of shelter from extreme weather conditions
Sunburned skin
Filthy living conditions
Here are 10 simple ways to help an animal that might be suffering and in desperate need…
Know who to call to report animal cruelty. The Iron County Sheriff Animal Control division investigates animal cruelty. To anonymously report a suspected case of neglect, cruelty or abandonment, please visit Report Animal Cruelty.
Get acquainted and look out for horses in your neighborhood. By being aware, you're more likely to notice the horse down the street that once looked healthy has suddenly lost weight – a possible indication of abuse.
Make the call. Without phone calls from concerned citizens who report cruelty in their neighborhoods, no one will know about most instances of animal abuse. It all starts with YOU – that's why it's so important to keep your eyes and ears open.
Provide as much as information as possible when reporting animal cruelty. The details you provide can go a long way toward assisting an investigating officer. It helps to write down the type of abuse you witnessed, use your phone to take video or pictures, and note who was involved, the date of the incident and where it took place.
Contact your local law enforcement agency and let them know you feel investigating animal cruelty cases should be a priority. Animal cruelty is a CRIME — and the police or Sheriff MUST investigate these crimes.
Fight for the passage of strong anti-cruelty laws on federal, state and local levels by joining us in passing Elsa's Law. Stronger laws mean tougher penalties. You may receive occasional emails giving you ways in which you can help. This may include asking you to write letters encouraging your legislators to pass these laws.
Set a good example for others. If you have horses, be sure to always show them the love and good care they deserve. But it's more than just food, water, and adequate shelter. If your horse is sick or injured, call your veterinarian. Show your horse(s) lots of love!
Talk to your kids about how to treat animals with kindness and respect. Kids are often in homes where animal abuse has taken place. If a parent isn't treating the family's pet's right, kids need to understand that animals are living creatures that feel pain, joy and sadness.
Start a Neighborhood Watch Program. Get to know the animals in your neighborhood and invite your friends and neighbors to do the same. Together you can keep an eye out for anything that looks suspicious – abuse and neglect of companion animals, the mistreatment of local wildlife, dogs left in hot cars and other signs of abuse.
Support your local shelter or horse rescue organization. It's a great way to make a difference. For instance, you can Make a Donation, Sponsor a Horse, Adopt a Horse or Volunteer at our horse rescue. In so doing, you're helping us give formerly abused horses the chance they deserve to heal, rehabilitate and live a good life.
For more information about how you can help, please contact us.
Be the voice for a horse that cannot speak for itself. You can help make the world a safer place for animals in your community.